Fabric Panel Project Ideas
By Savannah Call, RebsFabStash Marketing on August 25, 2022
"Panel Projects"
You guys loved our Panel Pillow Case Project idea that we did with Soar and Whispering Pines so we put together some more FABULOUS ideas for you to make with your panels!
1. Apron
An apron is a fun way to elevate your panel and makes a great compliment to the chef! 
Look what we did with the Chair of Bowlies Panel and Border Print  
Check out this Free Reversible Apron Pattern from Riley Blake Designs!
2. Pillow Case
Just in case you missed our Panel Pillow Case blog post, here is a quick run down. Certain panels can turn into SEWWW cute pillow cases if they have the right directional print. 
Use this free pattern from Riley Blake Designs "Roll Up Pillow Case" to make your own! 
We also have a video tutorial that you can follow along with! 
3. Tote Bag 
Block Panels are perfect way to add style to your bag! This tote bag uses cut outs from the block panel as pockets on both sides of the bag! How ingenious!
Panels Pictured:
We found this free tutorial from HGTV for you to make your own Tote Bag!
4. Quilt 
Of course panels are used to make quilts all the time, and there's a reason for it! Panel Quilts are simple and stunning, the perfect combo!
Panel images can elevate your quilt and be completed quicker than making unique blocks. They make great center pieces in your house or beautiful gifts for friends. 
Check out more Panel Quilts here!
5. Throw Pillows 
Some panels are specifically made to be turned into pillows!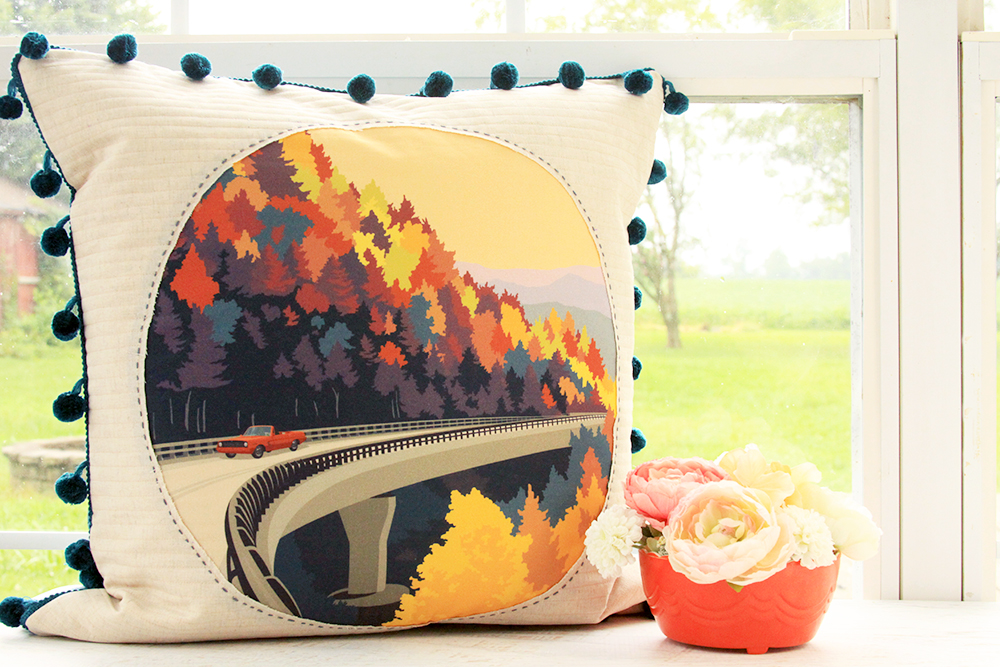 We love what Bev from Flamingo Toes did with this National Parks Pillow Panel from Riley Blake Designs, she includes everything you need in her blog! 
Check out Pillow Panels Here
6. Wall Hanging 
Some Panels are just too gorgeous, they need to be on display at all times. Turning a panel into a wall hanging makes easy yet stunning decor for any holiday or year round. 
These panels are designed to be quilts or wall hangings, but can be used in any way you wish!
Watch this video tutorial on how to transform your panel into a wall hanging!
7. Curtains
Panels can be a great way to spice up a window! You can make curtains using just the panel or add more yardage to make them any size you want! 
Check out this Free Cafe Curtains Pattern from DecorHint Blog
8. Cut Out Panels
These panels are great to sew with since they give you the project within the panel! 
Some great examples are this Advent Calendar Panel, Shark Plushies/Pillow Panel, Turtle Bay Tote Bag Panel, or the Peace, Love, & BBQ Apron Panel! 
All of these panels come with the instructions and pieces you need to complete the project! How simple & fun! 
They are also affordable, with prices ranging from $8-$15
Check out more Panel Tote Bags Here, more Panel Aprons Here, and more Panel Cut Out's Here! 
9. Face Mask Panels
If you have leftover face mask panels from the pandemic, and you want a way to repurpose them, we have a few ideas! 
These fun graphics have sew many fun uses! 
- Embroidery 
- Mug Rugs 
- Zippy Bags/ Coin Purses
- Costume Masks 
Check out Face Mask Panels HERE
Now you are all set to sew away and transform your panel into something new! 
Let us know if you make any of these projects in our RebsFabStashers Facebook Group! 
Leave us a comment if you have any more panel project ideas!
Stay in touch with us at RebsFabStash!
@RebsFabStash